Bread is one of the dishes showing the quintessence of Vietnamese cuisine, has been repeatedly praised by international diners or prestigious travel websites ranked in the top best sandwiches in the world.
Although inheriting this culinary heritage called "bread" from the French, it is undeniable that raising bread to a new level is thanks to the infinite creativity of Vietnamese people. In addition to traditional breads such as pate, roast meat, rolls, eggs, ... the strange and familiar bread versions are being praised by young people as a new trend, have you tried it all?
1. Steamed bread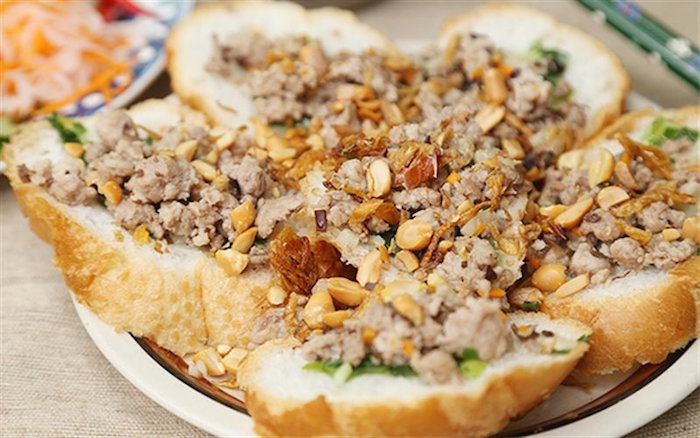 Delicious Saigon steamed bread. Photo: Cooky.vn

Say no more, the steamed bread of Saigon has broken any inherent stereotypes that bread must be crunchy or baked to taste delicious. Unlike familiar toast, steamed bread offers a refreshing taste. The best steamed bread is when there is a combination of all flavors: the softness of the bread combined with the fresh sweetness of beef, spring rolls, coolness of vegetables, the fragrant aroma of peanuts, greasy of onion fat ...
Each piece of bread is soft but not crushed, moist but not wet, so that the softness of the crust mixes with the toughness of the piece of meat to numb the tongue, cool the wine and reduce the fatness of the meat. Emotions are easily attracted to, led by a different taste compared to traditional bread.
Reference address: Bread 83 Cô Giang 83 Cô Giang, Ward 1, Phú Nhuận District, TP. HCM (83, Phu Nhuan district, Ho Chi Minh City)
Price: 40,000 VND / small interest, 60,000 VND / large interest

2. Filtered bread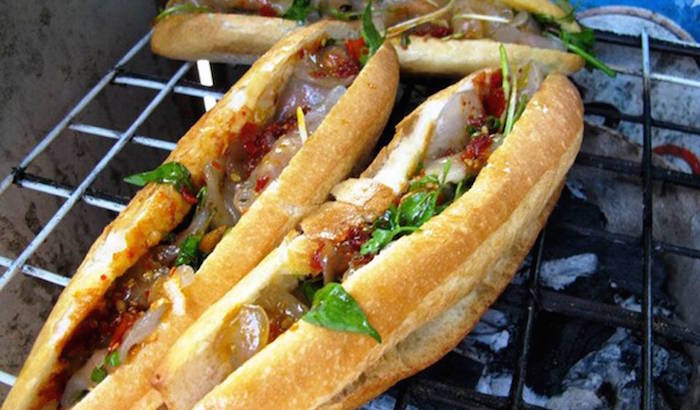 Instead of familiar types of meat such as meat, grilled meat, pork ... Hue bread is famous for the inner filling to bring interesting to eaters. Photo: Metrip.vn

Instead of familiar types of meat such as meat, grilled meat, pork ... Hue bread is famous for the inner filling to bring interesting to eaters. Pretty baby filter cake, shrimp or green bean paste, chewy crust covered with crispy bread and sprinkled with sweet and sour sauce.
The fruit is not exaggerated, eating a piece of filtered bread, all Hue flavors gradually melt down on the tongue. The toughness of the filter powder blends with the charming taste of the shrimp, in addition to the pungency of satay and the aroma of onion fat ...
Reference address: Trang Tien Bread, Hung Vuong, Hue City
Opening hours: 19:00 - 1:00
Price : 10,000 - 15,000 VND

3. Salt and chili toast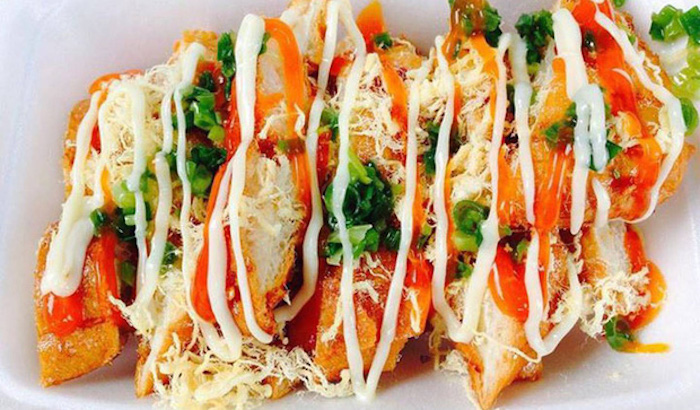 This bread is "paired" with salt and chili and is baked crispy on charcoal stove. Photo: tin247

Toasted salt and chili toast originated from the West and finally arrived in Saigon. This bread is "paired" with salt and chili and is baked crispy on charcoal stove. Anyone who accidentally comes across, the smell of bread tingling aroma transient also felt ecstatic because it was too attractive.
The toppings of this bread are extremely diverse, such as shrimp, quail eggs, cotton floss, sausages, spring rolls, onion fat ... But the special feature of this dish comes from the hot pepper paste satay. up in the throat. Although this is not a "super spicy" dish, its spicy will definitely make you have to "watch out" for the first time to enjoy.
Reference address: Chili Salt Bread Toast Year 281 Street 3 February, Ward 10, District 10, TP. HCM
Opening hours 15:00 - 22:00
Price: 12,000 VND / unit

4. Bread pressed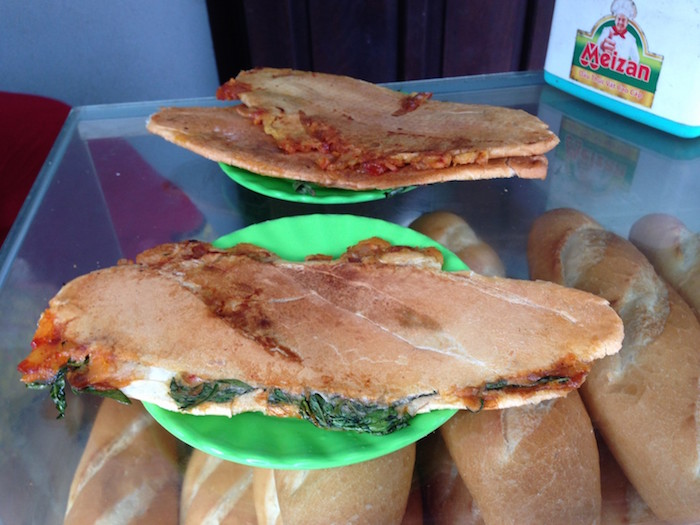 The "ultra-thin" bread presses are extremely impressive in both "configuration" and taste. Photo: Kenh 14.vn

Hue gourmets often whisper about this "thin" bread, especially in An Truyen Village, on the way to Dam Chuon Huong Quan. Although quite far from the city center, but whenever the "craving", the "holy eaters" of Hue find it here to enjoy this dish.
The bread is made from bacon, chopped and then sauteed with lemongrass, seasoning to taste. Bread slices out for a few stalks of vegetables, a little meat, then press hard into the cast iron to "oven" the best pressed bread.
Reference address: Pressed bread, An Truyen Village, Phu Vang, Hue
Opening hours : 7:00 - 15:00
Price: Approximately 15,000 - 20,000 VND / unit

5. Greasy bread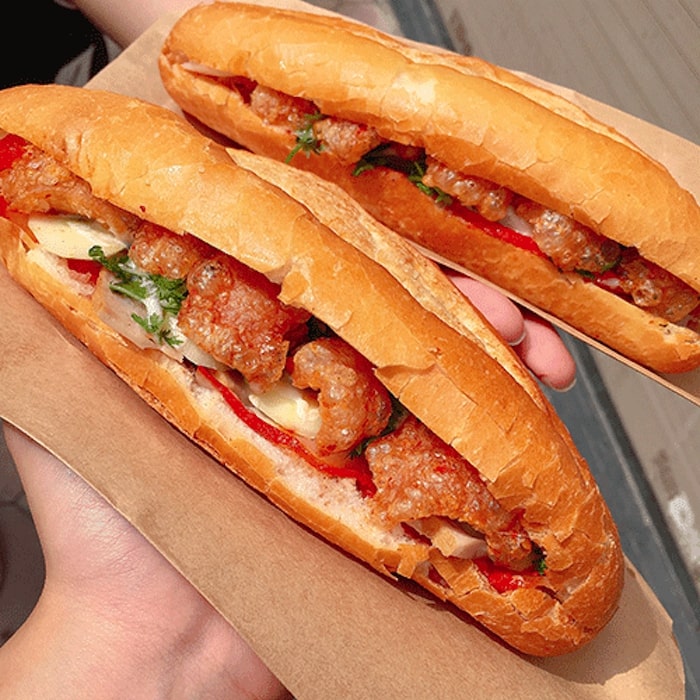 The sandwich is so fat and puffed that the fillings of the filling look clear. Photo: Wecheckin

Enjoying the bread, greasy bread, its deliciousness is doubled because of the spice of the memory. Still the type of sandwich, although among the numerous delicious burgers, the famous burgers stand out in a very unique way. Crunchy fat grease, has a spicy taste, numbness of the tongue, chewing the cold mouth without being sick.
Biting a piece of cake, it is crispy, greasy daydreaming. Surely those born late will never know what the feeling of the winter morning is eating fat. Who would still buy pork fat when they came back to the market to eat pork fat and eat it? But if you crave can visit this shop to enjoy bread containing "a whole sky".
Reference address: Fatty bread, 44, Bui Thi Xuan, Hai Ba Trung, Hanoi
Price : 25,000 - 30,000 VND / unit