Find Dalaland coordinates right away
For those who love Dalat, it will not be hard for you to find this brand new virtual paradise. Dalaland tourist area is located at Group 20, Village 4, Ta Nung Commune, Da Lat City, about 300 m from Me Linh coffee shop. This is a road that leads to many romantic and romantic places for tourists such as Ta Nung pass, Hoa Son Dien Trang tourist area, Me Linh coffee, triangular flower garden, ...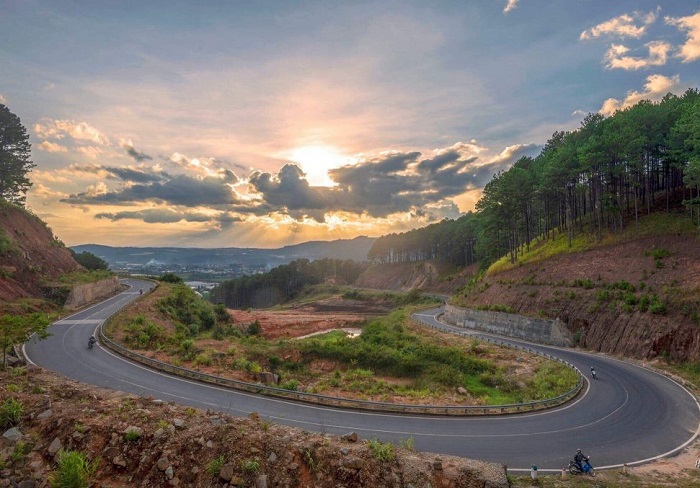 You follow the direction of Van Thanh flower village to Ta Nung, Dalaland tourist area is located near Me Linh Coffee. Photo: datphongdalat.vn
For those who have just gone to Dalat for the first time, you head to Van Thanh flower village, continue straight along the road to Ta Nung. When you come to Ta Nung commune intersection, you turn left about 500 to get to the virtual living place that people call " Bali made in Vietnam " today.

Take thousands of charismatic photos in Dalaland
When traveling to Da Lat , besides breathing fresh air and eating lots of delicious food, every visitor wants to take lots of beautiful photos to celebrate and to post to Facebook and Instagram. And if you have prepared a lot of nice clothes to pose, Dalaland will create the most favorable conditions for you to take pictures.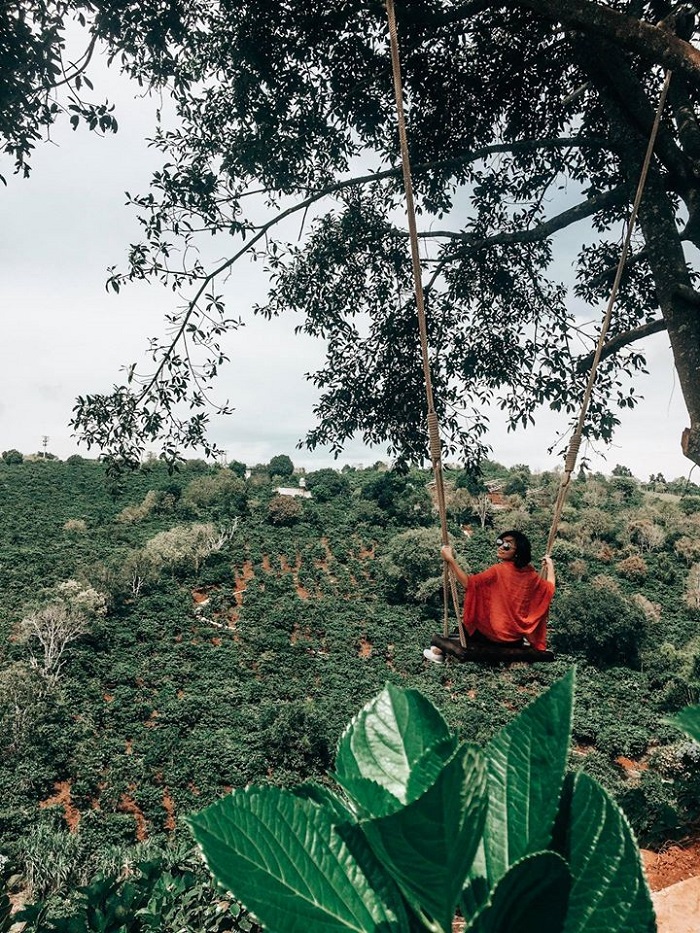 No need to go to Bali, in Dalat also has a virtual swing like this. Photo: Facebook Dalaland
Dalaland campus up to 8,000 m2 is planned into a coffee area, homestay and a series of small landscapes for tourists to capture. Currently, the Dalaland resort is in the process of being finalized to open its doors on November 14 , 2019 .
According to the Dalaland fanpage, this brand new destination is at the forefront of bringing the standard Bali to Dalat. Every small landscape is built in scale and meticulous, fully showing the romantic beauty of Bali resort paradise immediately creating a city of thousands of flowers. That is the reason that from the early days, Dalaland has attracted the attention of many tourists. And although it has not officially opened, but there are still many young people who come here to check in before some beautiful pictures, "shop" on facebook makes those who love Dalat stand still.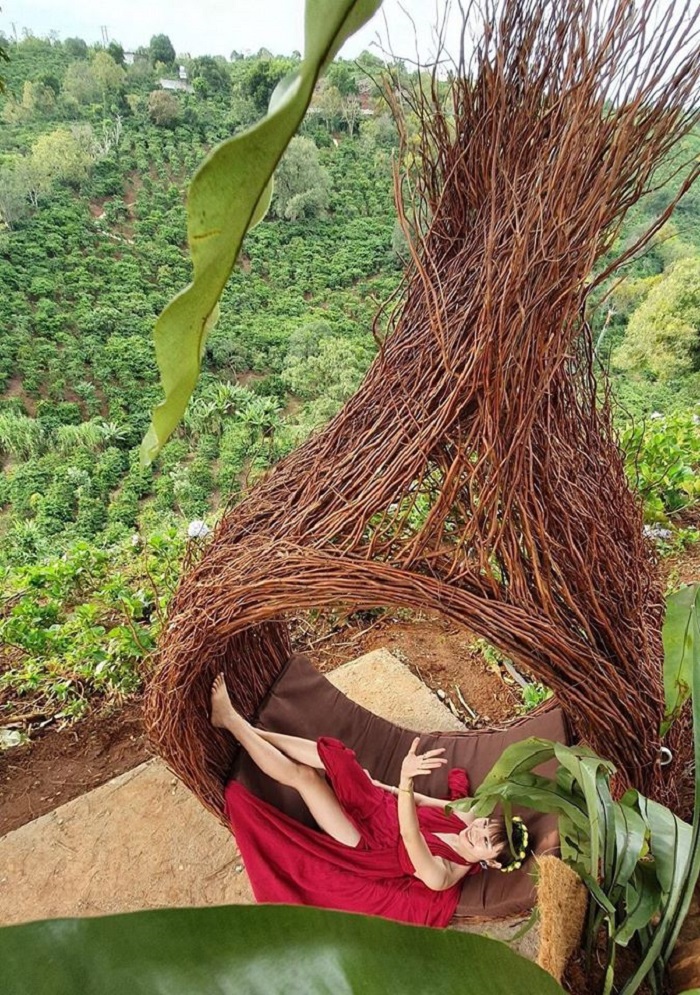 The bird's nest is carefully organized and meticulously as good as the standard bird's nest in Bali. Photo: Facebook Dalaland
Between the space of rolling hills and fresh, cool air, there are beautiful sceneries for you to lose shape. Most prominent is the swing on the tree with a view straight down the coffee hill. The swing is attached to a big big tree so it is very sure, delight you to rock, take dozens of magic photos.
The next virtual living spot here is the bird's nest landscape made of sturdy vines, shaped in a wide circle and inside has a cushion for guests to lie, sit, shape many types. Although the bird's nest has appeared in some Dalat homestays, only the bird's nest at Dalaland tourist area has the top tip, which looks like real bird's nests.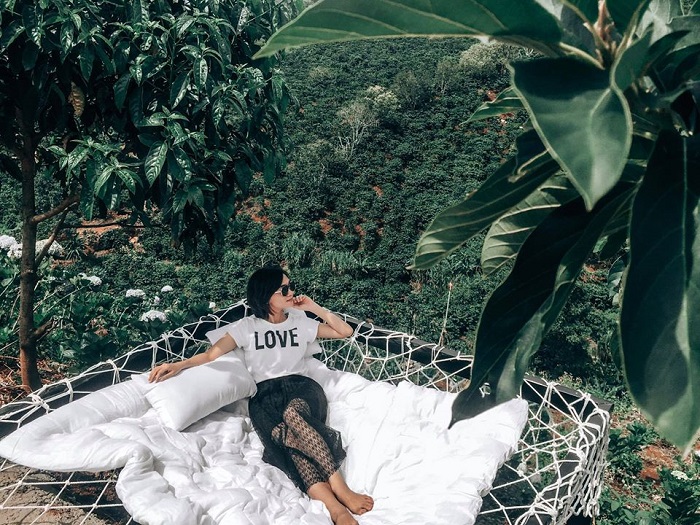 And how can it be without these romantic, peaceful net beds. Photo: Facebook Dalaland
For those who want to take photos in a lazy, relaxed style, there is a net bed along the edge of the hill. You will see a silky green hill planted flowers, coffee below. And for visitors to be cool when lying on this special bed, people planted more large coffee trees around.
In particular, in the tourist destination " Bali made in Vietnam ", there is also an iron bed, pure white padding with luxurious beauty, suitable for romantic and delicate photos. In addition, the Dalaland campus also has a Buddhist hand pointing to the sky built of very strong stone, promising to be a unique small landscape that will be well checked in by the people in the near future.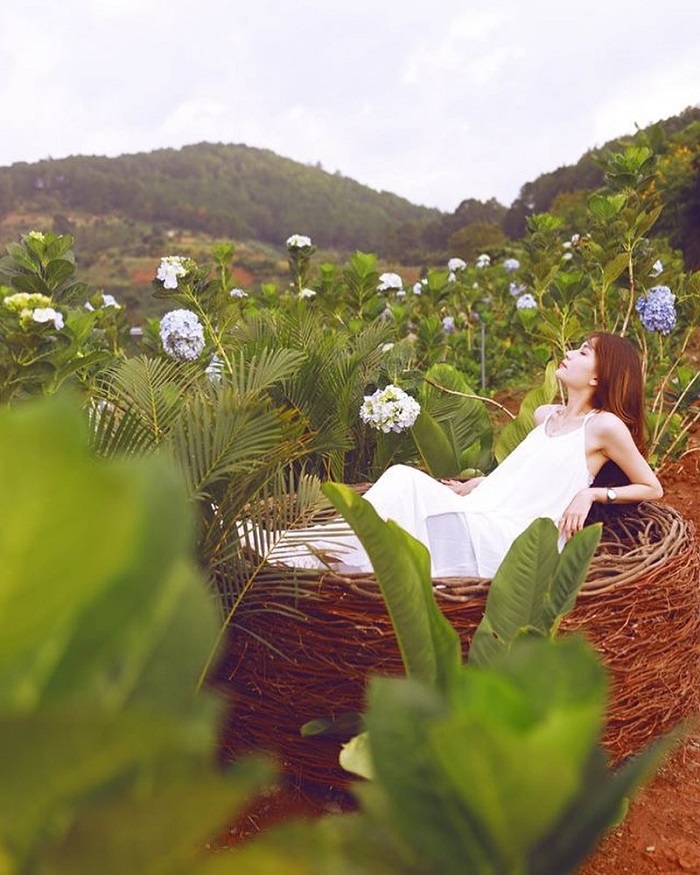 In the resort area is planted many hydrangeas and decorated with many beautiful miniatures. Photo: dalaland19
Currently, although Dalaland tourist area is still under construction to complete a number of items. But basically, the most beautiful virtual living places, the most Bali standard, are over. So many tourists have come here to take advantage of some photo memories.

Attractive program opening day
To increase the attraction for the opening day, Dalaland has a program of sponsoring 500 accessory combos for visitors to take pictures here. Accessories include scarves, hats, earrings that match the outfit you are wearing. The condition to be sponsored is simply that you go to the Dalaland resort fanpage and share the post in public.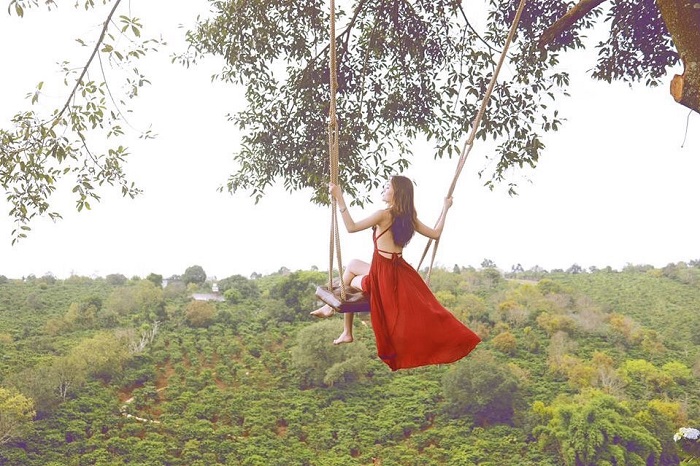 This brand new destination is one of the places with the beauty of the tourist paradise of Bali. Photo: dalaland19
Currently, Dalaland has not officially opened, so fares are not clearly listed. For more information on prices, you can wait until this destination is open and update later to arrange a visit if you plan to travel to Dalat.
There are many reasons for the city of thousands of flowers to be taken from near and far tourists to "secretly love and steal". It can be fresh air, pine forests, attractive cuisine. And it is also possible that the emergence of new and both beautiful and impressive tourist destinations has become the reason for everyone to love Dalat, whether they have come here many times or have not had the opportunity to visit.