Da Nang has long been considered the most livable city of Vietnam and also one of the most worthwhile tourist destinations in Vietnam. Maybe you have been to Danang before but have you ever been to Danang in the winter ? Here are the reasons that you should try to travel to Danang in the winter to see.
Anyone traveling to Da Nang will also choose sunny days to facilitate travel and play. And summer is also the peak tourist season of Danang. In the winter, the cold air is covered, the sudden drizzle seems to discourage many tourists making it easy for them to abandon the wonderful discoveries in this city in the winter. So why don't you travel to Danang in the winter ? It will definitely be a trip with many interesting experiences.
Why should travel to Danang in the winter?
The weather in Da Nang in winter is only slightly chilly, very romantic
The typical weather style in the winter is usually drizzle, cold, wet weather that makes people often afraid to go to the road. However, did you know that in winter, the weather in Danang is only a little bit cold, with little rain. The amusement parks in Da Nang in winter are always open to welcome visitors.
Traveling to Danang in the winter, instead of feeling as hot and tired as the summer days, it is a cool, refreshing feeling of the winter.
Traveling to Danang in winter helps save money
Another advantage of traveling to Da Nang in the winter is saving money. In the winter, the temperature in Da Nang began to decrease and the price of guest houses and hotels seemed to decrease accordingly. If in the peak season, hiring a luxury hotel is not everyone has conditions. However, in winter it is different. The hotels simultaneously discounted. You absolutely can find yourself a "luxury" hotel, or a beautiful view hotel to satisfy your "virtual life" preferences. Hotel prices in the winter usually only range from 500 to 800,000 VND / 1 night / 1 room.
Not only will hotel room rates fall, in the winter, airlines will also race to lower prices. The fact that you hunt a cheap flight ticket to Danang during this time is a very simple thing. Travel companies will also strongly discount Da Nang tours in the winter.
Traveling to Danang in the winter will save you a lot of money, right? You will also have more interesting experiences with fun activities and festivals in Da Nang in the winter.
Enjoy the exciting experience
Speaking of the most famous attractions in Da Nang, Hai Van Pass and Son Tra Peninsula must be mentioned. In the hot season, the number of tourists coming to these two places is always very crowded when it makes us uncomfortable. So why not travel to Danang in the winter to explore these two places? In the winter, the mountain ranges here will be covered with fog creating a majestic, poetic and equally mysterious spectacle. When you go remember to prepare warm clothes, gloves, scarves.
Another place that you definitely must not miss when traveling to Da Nang in the winter is Ba Na Hills tourist area. In the winter days, Ba Na Hills seems to be wearing a new shirt more peaceful, more romantic than usual. Coming here in the winter you will feel like your soul is much more relaxed and gentle.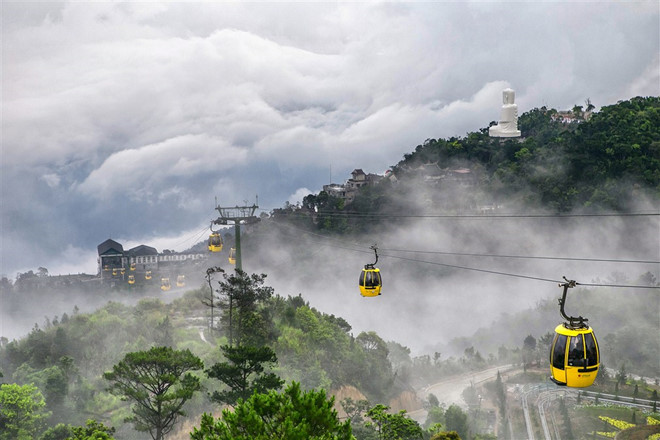 On drizzle afternoons, it will be chilly, sitting at a cafe and enjoying a hot cup of coffee is also a very interesting experience. While sipping coffee, just watching the street view, we can feel how romantic and in love with Danang.